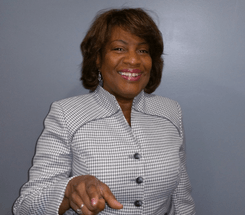 Brenda J. Medley Ministries
Brenda J. Medley is pastor of Empowered Ministries in Clinton, Maryland where the glory of God is manifested through His presence, spiritual gifts, and healings (check out our testimonials). She founded Phemi School of Prophets (a biblically based online training center for the five-fold ministry gifts). Training on identifying, developing, and utilizing spiritual gifts; spiritual warfare and healing and deliverance programs and other trainings are available. She hosts numerous workshops and conferences as well.
She is director of numerous outreach evangelism programs where she actively pursues the 'Great Commission' locally and internationally. She holds annual crusades in Africa, India, and Israel; and evangelizes on the streets in various communities in the U.S. along with her evangelistic team.
Brenda J. Medley has her heart connected to the mouth and heart of the Most High God. She is a prolific speaker, an extraordinary prophetess and a disciple of the Word of God (the Bible).
She authored, Visitations to Heaven and Talking With Angels and has written many other literary materials.
She is founder of 'No More Silent Tears,' a support group for domestic abused women and she ministers to a halfway house for men.
Brenda has a J.D. degree from William and Mary Law School.
For Personal Prophetic Mentoring
Join us on Saturdays
at 11AM (EST) at 9511 Piscataway Road, Clinton, Maryland 20735 or join us on Zoom:

Meeting ID: 684 344 4755; Passcode: 1234
One tap mobile
301-715-8592 (DC Area)
Find your local number: https://us02web.zoom.us/u/kcr8KGhHHX
CHECK OUT OUR YOUTUBE Channel, Brenda J. Medley
JOIN ON FACEBOOK FOR MOMENTS WITH GOD with Pastor Brenda Medley and Dr. Harold Dean Trulear
(Monday-Friday from 12:30-1:00PM)
https://www.facebook.com/ProphetessBrendaMedley